Keith "K.L." Belvin, MHSC, MS Ed.
Crisis Specialist, Human Service Counselor, Author & Educational Consultant.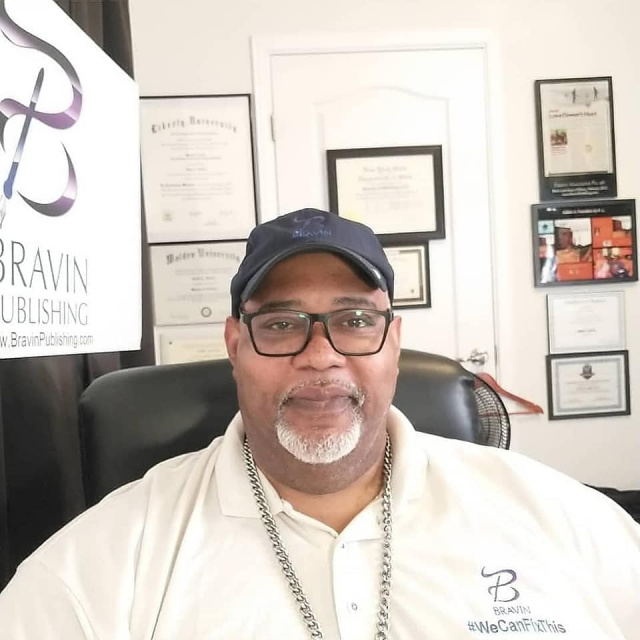 Who is K.L. Belvin?
Keith "K. L." Belvin owner and founder of Bravin Consultants LLC, is a Crisis Specialist, who offers individual & family therapy. Keith is also an award winning published author/poet who's been featured in Ebony Magazine (Feb. 2012 Black Love Issue) He was a Delaware Investigator, and a former Dean of Students for the NYC DOE where he spent over 20 years.
Keith is also an lay minister in Delaware who offers Christian Counseling, Marriage Counseling, & Mentoring
Who do I do it for?
I do it for women and men, mostly women who need assistance in dealing with difficult situations. I work with singles, couples, and children. The person who connects with me the most often is age 35 to 60 years old, single with children looking for help to deal with her past and missteps made with men who played games are weren't ready to be her equal. People slightly younger or older lean my way as well.

Why do I do it?
I do it because the Lord saved my life when I was living to destroy the women I was with poorly misbehaving while dating and married. I believe the Lord spared my life to be a protector to women who are hurting and light for men who are lost and trying to find themselves. I do it because this is my ministry. My current path is how I serve my faith.
What experience do I have to do this?
I have a master's degree in education, a Masters in Human Service Counseling. I am currently completing the mandatory counseling required by the State of Delaware to qualify for my professional license in Counseling. I am an Ordained Minister who is connected to people who aren't connected to a particular church. I am a recovered whore, who, for thirty-seven years, had multiple children with multiple women. I am divorced and happily remarried. I changed my behavior long before I attempted to change anyone else. I now show others a way out of their pain through direct support through counseling, consulting, ministry, speaking, videos, and books.
What problems do I solve?
I counsel people on how to deal with the problems crushing the life out of the things they enjoy, things like being cheated on, death of loved ones, failing at dating or marriage, and others along these lines. I help people solve personal problems, and for those of the Christian faith, I help with an understanding of how to love the Lord when your church may not support you or offering emotional or spiritual assistance. I teach how to get through the periods of time when there are no answers to how to make changes. I help those suffering from baby mama/daddy drama. I educate on how to deal with family court and child support issues. I fill the void of not having anyone to hold you accountable.
I educate men and women on how to be good husbands or even better wives. I help develop pathways to help your children do better in school when struggling. I assist becoming better parents. I also work with those who want to live life as a better Christian and not feel like they are failing because church goers do not understand you.
---
Education
- MA, Human Services Counseling / Christian Ministry
- MS, Education / Curriculum Writing, Assessments & Teaching
- BA, Physical Education / Movement Science, Health Education
York College, City University of NY
- AAS, Business / Travel & Tourism
Kingsborough Community College, City University of NY
- Online Ordained Minister,
- Certified State Investigator,
- Certified Curriculum Reviewer,
---
Are you ready to schedule a session? Reach out to us, we are here to help you.
Click the link to set up your free discovery session.